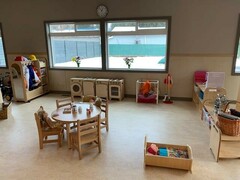 The new year brings exciting news that a new childcare provider has been chosen to operate the District-owned childcare facility located at 502 Cedar Street.
The recipients, Amar and Kiran Kallu, currently operate two successful childcare centres in the Lower Mainland. They have partnered with a well-established local childcare provider, Krystal Allen, to manage the facility. Allen has offered licensed childcare in Sicamous since 2019 when she opened the doors to Krystal's Creative Kids.
"We're very excited about the opportunity to provide quality and affordable childcare in Sicamous," says Kiran Kallu. "We recognize the needs and demands of the community and look forward to taking the necessary steps to provide new spaces for infants to school-aged children. We believe this will make a huge difference for all families, especially those with multiple children requiring childcare."
In 2022, the Eagle Valley Community Support Society (EVCSS) gave notice that it would not be renewing its lease to operate the Little Bears Child Care Program. This resulted in the District completing a request-for-proposals process to seek out licensed childcare operators.
In the coming months, the District and EVCSS will work with the new childcare provider to create a smooth transition for families currently receiving care. 
"We would like to thank the Eagle Valley Community Support Society for their continued assistance during the transition period and the District of Sicamous for giving us this opportunity and believing in our vision for Sicamous," says Kallu. "Lastly, thank you to Krystal Allen for trusting us and joining our team to take childcare in Sicamous to a new level."
The transition of operators is anticipated to take place in the spring. More information will be shared with the public once details are finalized.
-30-
For additional information, please contact:
Kelly Bennett, Chief Administrative Officer | P: 250-836-2477 Ext. 2090 | E: kbennett@sicamous.ca
Background Information: