District of Sicamous celebrates Rural Health Award with Family Fun Day
Posted On: Sep 14, 2023
Tags: Discover , Your Municipality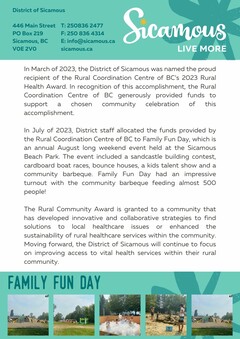 In March of 2023, the District of Sicamous was named the proud recipient of the Rural Coordination Centre of BC's 2023 Rural Health Award. In recognition of this accomplishment, the Rural Coordination Centre of BC generously provided funds to support a chosen community celebration of this award.
In July of 2023, District staff allocated the funds provided by the Rural Coordination Centre of BC to Family Fun Day, which is an annual August long weekend event held at the Sicamous Beach Park. The event included a sandcastle building contest, cardboard boat races, bounce houses, a kids talent show and a community barbeque. Family Fun Day had an impressive turnout with the community barbeque feeding almost 500 people!
The Rural Community Award is granted to a community that has developed innovative and collaborative strategies to find solutions to local healthcare issues or enhanced the sustainability of rural healthcare services within the community. Moving forward, the District of Sicamous will continue to focus on improving access to vital health services within their rural community.