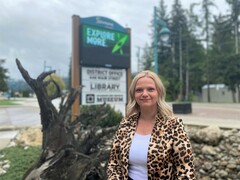 The District of Sicamous is pleased to introduce Nicole Hansen as the municipality's new communications and legislative coordinator. Hansen started her new role with the District on April 17, 2023.
"I spent the last 10 years in Fort St. John contributing to rural development and wanted to come back to Sicamous to embrace my creative side with this role," said Hansen. "Communication with the public is extremely important."
In this role, Hansen is responsible for District communications and provides legislative support to the corporate services department. The corporate services department supports council with up-to-date legislative, statutory and procedural information. The department is also responsible for records management and compliance with the Freedom of Information and Protection of Privacy Act.
Hansen comes to the District of Sicamous from the Ministry of Transportation and Infrastructure where she spent 12 years working in Development Services. Most recently, she was a provincial approving officer for rural subdivision in Northeast B.C. where she collaborated on subdivision and development servicing bylaws, official community plans and zoning bylaws.
"After working for the provincial government, I am excited to feel closer to a community while working for a municipality," Hansen shared. "I've seen the bigger, overarching picture from the province, and now I want to contribute to the ins and outs of a tight-knit community and make a difference."
Outside of work, Nicole has a passion for fostering feral cats and long road trips. Recently, she has driven to Haida Gwaii, Alaska, the Northwest Territories and the Yukon. Nicole also enjoys cooking, sewing and creating scrapbook greeting cards.
District of Sicamous Staff Directory