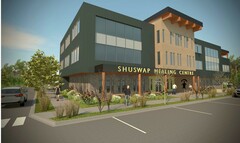 The District is pleased to release an Expression of Interest (EOI) for a comprehensive design of the Shuswap (Secwepemc) Healing Centre.
The purpose of this EOI is to solicit competitive Proposals which will identify and allow for the contracting of a Project Development Manager and specific sub-consultants (if any) to assist the Development Manager to prepare a comprehensive design for the Healing Centre Project as well as provide preliminary budgeting for the construction of the facility to ensure that the proposed design will meet the capital objectives and funding capability of the DOS.
The design and construction of the Shuswap Wellness/Healing Centre will involve focused and meaningful Splatsin consultation and collaboration. This regional facility will address the support of both indigenous and non-indigenous residents who seek physical and mental health support services. The completed Project will encompass culturally sensitive and community focused services including, but not limited to Home Health, Public Health, Mental Health and which may include primary care, dental health, Adult and Youth Day Program Services including treatment, consultation and related services.
Learn more about the Shuswap Healing Centre Expression of Interest here.