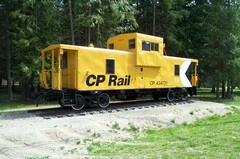 FOR IMMEDIATE RELEASE    
June 3, 2022—The District of Sicamous is supporting a Civic Committee established by community residents to pursue restoration of the railway caboose located within Finlayson Park. 
In an online forum, residents shared their desire to see the caboose restored to its original condition after it was painted as part of a Sicamous Communities in Bloom and District initiative to beautify the community. At this time, plans to temporarily wrap the painted caboose with decals that reflect Sicamous "Live More" branding have been halted.
"Communities in Bloom is a strong advocate for honouring heritage in the community," says Sicamous Communities in Bloom Chair, Deb Heap. "The caboose had fallen into a state of disrepair, and since restoration was not an immediate option, an interim solution was planned that married this important symbol with the energy of Sicamous."
The new Civic Committee will be fundraising to repaint the caboose with plans to organize a community fundraising event that honours Sicamous' history. Anyone interested in participating in the Committee or who wishes to assist with the event are encouraged to contact Tia Ciserella-Lemieux at tial@sicamoustravel.com or 250-804-1788.
"Council appreciates the energy and passion of our residents to see the caboose restored to its original state," says Mayor Terry Rysz. "We support the community-led direction of restoration and look forward to working with the Civic Committee being organized."
The caboose was donated to the District of Sicamous by the Canadian Pacific Railway in 2003.
-30-
For additional information, please contact:
Jennifer Bruns, Corporate Officer   
District of Sicamous
P: 250-836-5263
E: jbruns@sicamous.ca