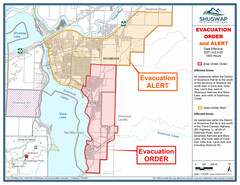 Update: An Evacuation Order has been issued south of Sherlock Rd, south-east of Cook Ave, Gillis Ave, Larch Ave, east of the Sicamous Narrows and Mara Lake, and north of Sicamous Creek.
Update 2:00 p.m. An Evacuation Alert has been issued by the Columbia Shuswap Regional District at the Shuswap Emergency Program's Emergency Operations Centre. A wildfire burning in the area of Two Mile Creek on the boundary of the District of Sicamous and Electoral Area E may pose a danger to people and property. Due to the potential danger to life, health or property, an Evacuation Alert is in effect for the following areas:
The area of the District of Sicamous south of the Trans-Canada Highway, up to the eastern and western boundaries of the District of Sicamous.
Update 11:23 a.m. - There is a tactical evacuation underway of homes nearest to the fire. Assessments are continuing. The Sicamous Landfill is being closed until further notice.
July 20, 2021, 11:00 a.m. – Please be advised a fire south of Two Mile Creek has been reported by the RCMP. The Columbia Shuswap Regional District has been notified and an evacuation alert may be issued. 
Emergency personnel are on site and the DOS will provide updates as they become available.