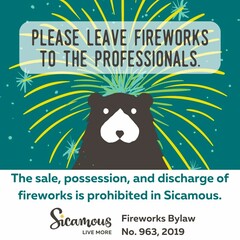 Did you know Sicamous has a Fireworks Bylaw?
District of Sicamous Fireworks Bylaw No. 963, 2019 prohibits the sale, possession and discharge of fireworks in Sicamous.
This summer, please leave fireworks to the professionals!
There are still safe ways to enjoy a firework show; the Canada Day Fireworks will be in full effect on July 1, 2023 (as conditions allow). A barge is booked and the mosquitos are (getting) under control!
District of Sicamous Fireworks Bylaw No. 963, 2019