Introducing Andrei Dumitrache, Community Ambassador
Posted On: Jul 13, 2023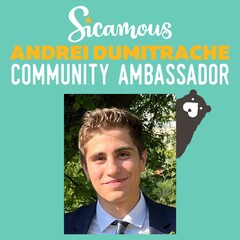 We are pleased to welcome Andrei Dumitrache, our new Community Ambassador, to the District of Sicamous!
As Community Ambassador, Andrei will help our Bylaw Enforcement Officer apply District bylaws, educate the public and uphold community standards.
Andrei comes to the District of Sicamous with experience volunteering for the Sicamous Fire Department and working for the Sicamous Visitor Centre. Drawn to the position by the opportunity to contribute to creating a cleaner and kinder community, Andrei is excited to learn lots and make connections with people while on the job.
When not on the clock, Andrei spends time training for wrestling as he is a member of the University of Calgary's varsity wrestling team. Andrei also loves everything related to computer science and has a variety of personal projects (weather trackers, robots) on the go.
Andrei can't wait to meet everyone. Make sure to say hello if you see him out and about!