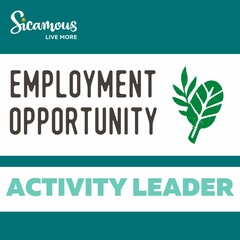 The District of Sicamous is looking for an activity leader!
This is a temporary, part-time position.
Activity Leaders provide direct leadership, instruction, and supervision of recreational activities for children aged 5 -12 years for the District's Kids Club programming. These activities include outdoor recreation, arts, crafts, sports, games, music, dance, play and day trips.
Activity Leaders will also provide supervision and oversight for evening recreational programming for all age groups.
To explore this exciting opportunity further, please email your resume and cover letter to hr@sicamous.ca by 4:30 p.m. on August 29, 2023.
Monday through Friday, 2 - 6 p.m.
Excluding winter break
Longer shifts on Pro-D days, winter break, early school dismissal days and days where the District has evening recreation programming.