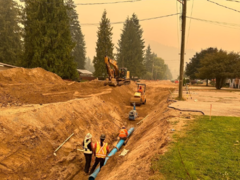 On Thursday (August 24, 2023), District staff, the project engineer and the contractor met onsite to review project progress, challenges and the upcoming works that are scheduled.
In spite of a few onsite surprises and challenges including the devastation of the Skwlax community following the Bush Creek East wildfire, Skwlax Resource Management remains on schedule with the Kappel Street West project.
As of this week, Skwlax Resource Management has completed the install of the 250-milimetre PVC watermain from Highway 97A to Riverside Avenue. They will complete individual services throughout next week and then begin testing the new watermain.
District staff, the project engineer and the contractor will be working together closely to plan the switch from the old watermain to the new one. This involves carefully planning the sequence of turning valves on and off as each connection point is made. All individual services must also be switched over. This will be a very big day; the District utility team and the contractor will have all hands on deck!
The contractor is tentatively planning for the tie-in to occur in early September. The switch will require temporary interruption of water service, likely for the duration of the day. Notice will be provided as soon as the date has been defined.
The District is happy to report that the project is going well and is on schedule!