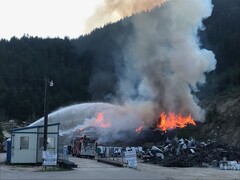 Update - 12:00 pm, Sunday June 2. From the CSRD Website: 
The fire at the Sicamous Landfill is now completely extinguished.
While mop-up efforts will continue at the site, the landfill will re-open to the public for waste disposal at 1:00 PM, Sunday, June 2. 
The CSRD appreciates the efforts of local firefighters and contractors in putting out the blaze and preventing the fire from spreading beyond the woodwaste pile. We also thank residents for their patience during the temporary closure.
A fire in the wood waste pile at the Sicamous Landfill has resulted in the closure of the landfill site, today, Saturday, June 1. 
The fire is under control but crews remain on scene and are working to spray down flare-ups within the woodwaste pile.
The fire started in the pile early this morning and was caused by spontaneous combustion from within the wood chip pile at the landfill, which then spread to the woodwaste pile. This fire was not the result of a controlled burn. The CSRD does not ever conduct controlled burns of woodwaste at any of its landfills or transfer stations.
Fire crews from the District of Sicamous were called in at approximately 5:30 AM and are now working with heavy equipment operators to ensure the fire has been completely extinguished. 
The Sicamous Landfill is located at 950 Two Mile Road.
The blaze was contained to the pile at the landfill site and did not spread beyond those borders.
Due to the safety of the public and fire crews, the landfill site is being closed for the remainder of Saturday, June 1. The CSRD will update residents about when the landfill site will re-open as new information becomes available.