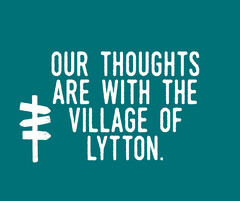 Our thoughts are with the community of Lytton whose Village was devastated by a wildfire this week.
For those looking for ways to support the community, Lytton Wildfire Relief Efforts have been organized by Tourism Associations across the Fraser Valley. Donation centres have been established as well as a GoFundMe campaign – the Lytton Relief Fund – for monetary donations.
You can learn more about items to donate as well as the Lytton Relief Fund by visiting: https://www.thefraservalley.ca/blog/2021/7/1/lytton-wildfire-relief-efforts
To report a wildfire or behaviour that could start a wildfire in B.C. please call 1-800-663-5555 or *5555 from a cell phone.