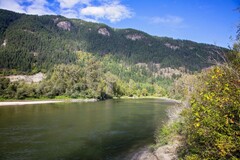 For anyone brave enough to canoe or kayak on the Eagle River at this time of year, please note that the waterway at the intersection of the river with the Solsqua-Sicamous Bridge will be fully obstructed from  November 30th, 2020 to February 23rd 2021.
Notices are posted upstream and downstream of the site. No portage through the site will be accommodated during construction.
We apologize for any inconvenience this may cause.
Inquiries related to this notice may be directed to the Operations Department via:
Email: operations@sicamous.ca
Phone: 250-836-2477
A PDF version of this notice is available HERE.