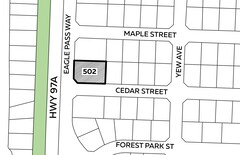 In accordance with section 24(1)(a) of the Community Charter, notice is hereby given that it is the intention of the District of Sicamous to enter into a lease agreement with Kings Kingdom Childcare Society commencing April 1, 2023 and expiring on March 31, 2028 for use of the District-owned childcare facility located at 502 Cedar Street.
The consideration being received by the District is $1 annually for use of the facility which is subject to review following 18 months of operation post renovations at which time the annual rent to be considered is $18,480.
For additional information and/or inquiries, please contact the corporate officer or deputy corporate officer at 250-836-2477 or corporate@sicamous.ca.
Background Information: