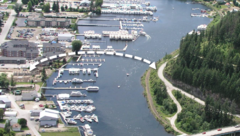 The District of Sicamous has received $50,000 through the Government of Canada's Active Transportation Fund to complete a feasibility study for an active transportation bridge over the Sicamous Narrows.
In December, the Government of Canada announced an investment of $1.3 million in funding to support 27 active transportation projects across British Columbia.
"Supporting the feasibility study for the Sicamous Narrows bridge crossing will help us determine how we can make travel in the District easier, more convenient, and safe," said the Honourable Harjit S. Sajjan, Minister of International Development and Minister responsible for the Pacific Economic Development Agency of Canada, on behalf of the Honourable Dominic LeBlanc, Minister of Intergovernmental Affairs, Infrastructure and Communities. "This research will bring us one step closer to connecting two vital sections of the District for everyone's enjoyment, and will promote the vibrant, healthy quality of life Sicamous embraces."
"Council is very excited about the feasibility study that will help us navigate our future active transportation. This will be a great project for all of us to be proud of," said Mayor Colleen Anderson. "A pedestrian bridge would be an amazing attraction for Sicamous tourism and enable all residents to connect to the west side of the narrows, enjoy the views, and access the new rail trail. This is inclusive of our live more, live well strategy."
The bridge for pedestrians, cyclists and other active transportation users would provide a direct link between the town centre and communities located west of the Sicamous Narrows, as well as to the future Shuswap North Okanagan Rail Trail.  
The feasibility study will consider Sicamous' draft Active Transportation Network Plan, capital plans and previous community engagement. Key considerations of the feasibility report will include civil and structural engineering capabilities as well as the environmental and archeological implications of the project. District staff, Urban Systems and COWI North America, a structural engineering sub-consultant, will collaborate to create the final feasibility report.
The Active Transportation Fund will provide $400 million over five years to make travel by active transportation easier, safer, more convenient and more enjoyable, in support of Canada's first National Active Transportation Strategy. 
-30-
For additional information, please contact:
Kelly Bennett, Chief Administrative Officer | P: 250-836-2477 Ext. 2090 | E: kbennett@sicamous.ca
Background Information: