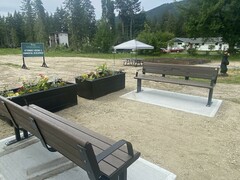 Temporary public space on Main Street will feature a pop-up seating area and Community Garden in Sicamous this summer. 
It is a shared vision of the District and Communities in Bloom to beautify the community. For the Summer of 2022, Public Works has temporarily transformed a portion of the vacant lots at 417 and 425 Main Street into usable public space.
With support from the District of Sicamous, local businesses and other non-profit groups, Sicamous Communities in Bloom is working towards achieving Five Blooms in 2022 through the British Columbia Communities in Bloom Program.
The pop-up Community Garden and seating area create temporary public space until the District breaks ground on an attainable commercial-residential housing project being pursued with Habitat for Humanity Kamloops. 
The community is encouraged to participate in the free Community Garden by registering and completing the Terms of Use Form. Available garden space includes 3 ft. x 3 ft. plots and 6 ft. x 6 ft. plots with the potential for add-on plots if there is enough demand.  
You can register online for the Community Garden or contact District Planner Sarah Martin at smartin@sicamous.ca or at 250-836-5261. The Community Garden is a pilot project for the community; a survey will be shared with the public at the end of the summer. 
-30-
Additional Information: