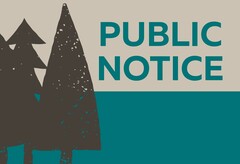 Please be advised that the Regular Council Meeting scheduled for November 23, 2022 has been postponed until November 30, 2022. The meeting time and meeting location remain unchanged. 
As per Council Procedure Bylaw No. 989, 2020, the Corporate Officer is required to post a public notice about any revisions to the annual schedule of Regular Council Meetings.
- Kelly Bennett, Corporate Officer
The public is invited to participate in council and committee meetings in person or electronically via ZOOM.
November 30, Regular Council Meeting 
Meeting ID: 842 4336 4235
Time: 5 p.m. (Public Session)
Location: Council Chambers or ZOOM 
Link to Attend Council: https://us02web.zoom.us/j/84243364235
Meeting Dial-in: +1 438 809 7799
The Inaugural Council Meeting for the newly elected Council will be held on Wednesday, November 9, 2022 beginning at 5 p.m.