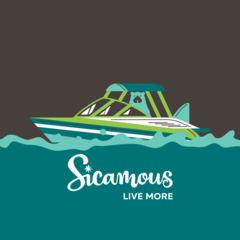 Boat safe Sicamous! Here is a reminder of some rules on the water and resources to consider before you set off.
OFFICE OF BOATING SAFETY WEBPAGE
This webpage provides tools and resources to help you boat safe.
DISCOVER BOATING WEBPAGE
Safe Boating Tips
Pre-Departure Checklist
Semi-Annual Maintenance Checklist
Life Jackets
Boating with Pets
Boating with Kids
Safe Boating Quiz
TRANSPORT CANADA SAFE BOATING GUIDE
Safety tips and requirements for pleasure crafts.
Brush up on your boating safety!
RIGHT OF WAY
Learn about the rules of the water by checking out this PDF from the Office of Boating Safety (Transport Canada)
SAFETY EQUIPMENT
Different vessels have different requirements for safety equipment. Review the required safety equipment for your vessel before getting out on the water.
SHORELINE SPEED RESTRICTIONS
When boating on lakes and rivers in British Columbia, there is a speed limit of 10km/h within 30 metres of shore. This speed limit is in effect whether it is visibly posted or not. Exceptions include the recreational towing of a skier or wakeboard while travelling away from and perpendicular to the shore, rivers less than 100 metres wide, in buoyed channels and in waters where another speed limit is set.
Universal Shorline Speed Restrictions
WATCH YOUR WAKE
You are responsible for the wake created by your vessel. Wakes can capsize other vessels, endanger swimmers and cause damage to other vessels, docks and the shoreline. Be considerate of other boaters around you by paying close attention to the wake created by your boat.