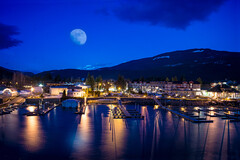 When short-term rental (STR) regulations came into force, we knew it would take time for STR operators to comply with the new rules. During this transition, the District has focused on education to encourage compliance.
On January 31, 2024, the District will begin enforcing STR regulations which may include a daily fine. If you operate a STR in Sicamous and do not meet the requirements, you will soon receive a letter from us with information on how to comply. 
To operate a STR in Sicamous, you must have a valid District of Sicamous Business Licence and your property must be zoned for STR use. If your current zoning does not permit STRs, you will need to obtain the proper zoning from council. If you are part of a strata corporation, STRs must be permitted by the strata for the District to issue a business licence. 
Please contact Development Services Manager Nicole Hansen for more information if your property is not zoned for STRs. Nicole is happy to answer your questions and may be reached by email at nhansen@sicamous.ca or by phone at 250-517-7370.
Resources:
Background:
At the beginning of 2023, the District of Sicamous implemented Zoning Bylaw No. 1000, 2022 which brought changes to short-term rentals in Sicamous.
On January 11, 2023, short-term rentals were designated to specific zones and business licences became a requirement to operate short-term rentals within the District. See the news post.