Patient-centered care top priority during Sicamous Medical Clinic transition
Posted On: Mar 10, 2021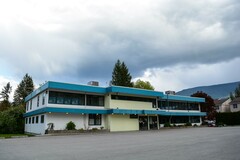 The District of Sicamous (DOS) assures residents will continue to receive quality patient care as it assumes management of the Sicamous Medical Clinic effective June 1, 2021.
Shifting to a Community Health Centre (CHC) model, the DOS will take over all administrative duties allowing physicians and other healthcare providers to focus on what matters most – patient care.
Dr. Saad Alam has been hired as the primary family physician and will begin working at the Clinic on July 19, 2021. He replaces his predecessor Dr. Jack Beech after decades of service in the community. All of Dr. Beech's current patients will transfer to the care of Dr. Alam and additional care will continue to be provided by Dr. Carol Connick who has practiced at the Clinic since 2019.
The CHC model not only aids in the recruitment of health care providers but supports a collaborative environment for health care professionals to work together and deliver health and wellness services based on community needs.
Please visit our Community Health Centre page for more information.