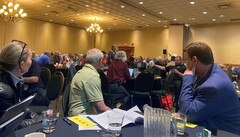 Council attended this year's Southern Interior Local Government Association (SILGA) conference in Vernon, BC.
SILGA represents various local governments in the Southern Interior area of British Columbia and is an advocacy tool to get resolutions on larger issues impacting the District of Sicamous and area. Learn more about advocacy on our website here.
Each year, Council submits resolutions to SILGA for consideration at its Annual Convention. If endorsed, the resolutions are submitted to the Union of BC Municipalities which are then presented to its membership at the Annual Convention.
This year, the District brought three resolutions for debate with all three endorsed to bring to the Union of BC Municipalities in September 2023:
Greater Enforcement for Provincial Invasive Mussel Defense Program
Riparian Areas Protection Regulation Compliance
Trans-Canada Highway Improvements