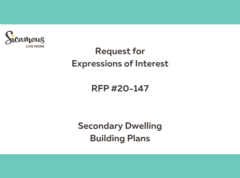 The District of Sicamous Housing Committee will meet on August 10, 2023 to consider secondary dwelling plans that were submitted in response to EOI #20-147.
The District is looking to purchase building plans for secondary dwelling units.
The building plans will be offered to the public as part of a "pre-approved plan library" at low cost.
Respondents to the EOI created versatile secondary dwelling building plans suitable for a variety of existing site layouts. The Housing Committee is looking for building plans that are energy efficient, modifiable and adaptable to support accessibility.
Housing Committee Meeting
August 10, 2023 | 1 p.m.
Council Chambers (446 Main Street)
Take a look at the recording from the June 8, 2023 Housing Committee meeting to get up-to-speed!