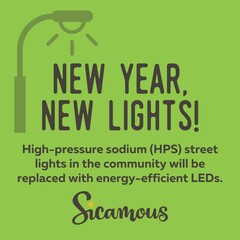 Starting January 4, 2023, high-pressure sodium (HPS) street lights in the community will be replaced with energy-efficient LEDs as part of BC Hydro's provincewide street light replacement project. The replacement work is expected to be completed in two weeks with minimal disruption to residents. Generally, each light installation takes about 30 minutes to complete. 
The District, in consultation with BC Hydro, took great consideration to select the appropriate sight-specific wattages and colour temperatures of the new LED lights. As it typically takes some time to adjust to the new lighting, BC Hydro recommends waiting three weeks after the installation before expressing concerns. If issues continue beyond this time, please contact BC Hydro at 1-800-266-6366 or email streetlighting@bchydro.com. 
Benefits of LED lighting include:
They consume about 50 per cent less energy consumption than HPS street lights;
They require less maintenance and have up to a 20-year life span; and
They help to reduce our carbon footprint.
The street light replacement project is to comply with federal regulations. The regulations require that all light ballasts containing Poly-Chlorinated Biphenyls (PCBs) greater than 50 ppm be removed by the end of 2025.
UPDATED FEB. 9, 2023
We would like to clarify that BC Hydro is replacing high-pressure sodium streetlights with energy-efficient LEDs throughout the province. This is a federally mandated project that only includes streetlights that are maintained by BC Hydro.
Streetlights that are owned by the District of Sicamous will be upgraded to LEDs in a phased approach over the next three years.
To learn more about the street light replacement project, please visit www.BCHydro.com/StreetLighting.