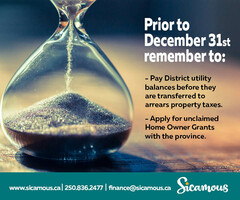 Residents are encouraged to pay utility balances and apply for unclaimed Home Owner Grants before December 31, 2021.
After December 31st, unpaid utility balances are transferred to arrears property taxes and begin accumulating interest. You may pay balances by cash, debit card or cheque at the District Office (446 Main Street) or online through your banking institution. Credit card payments may be made through
Paymentus
, a third-party service, for a 2.5% convenience fee.
Please note the District Office closes for the Holidays on Friday, December 24, 2021 and reopens at 8:30 a.m. on Monday, January 3, 2022.
If you are eligible for the Home Owner Grant and have not yet applied, you have until December 31, 2021 to claim your grant.
Learn more & apply!
Invoices for metered and annual utility invoices will be mailed out in January 2022.
Additional Resources: