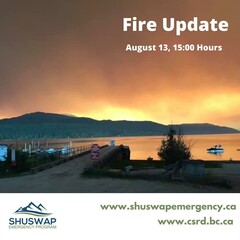 There is a new fire in the Shuswap, in a remote area of Hunter's Range, approximately five kilometres west of Hunter's Creek. The fire was suspected to have been started by lighting.
BC Wildfire Service (BCWS) reports they flew over this fire this afternoon and crews are continuing to monitor it. Currently the size of the fire is estimated at 1 hectare.
White Rock Lake Fire
• A number of new evacuation orders and alerts have been issued for different municipalities and local governments in the region. As of tonight, all Orders or Alerts in the CSRD areas remain unchanged.
• Due the changing weather, conditions on this fire are expected to become more active, with the next 72 hours being critical in terms of increased fire growth.
• Residents in Alert and Evacuation order areas are strongly advised to follow the directions provided to them and to remain vigilant n terms of protecting personal safety and the safety of emergency personnel.
• Heavy equipment and crews are being moved to priority areas on the fire that are expected to be the most challenging along the north, northeast, and east flanks. The Falkland area is on the northeast flank of the fire.
Two Mile Fire
• This fire is mapped at 1,542 hectares with more accurate mapping from aerial surveys that were conducted prior to heavy smoke moving into the area.
• Smoke may work to help reduce fire behaviour by keeping temperatures lower than previously anticipated.
Hunakwa Lake Fire
• Smoke is blanketing the area, with some of the heaviest smoke levels in the region. Continued smoke is anticipated heading into Saturday. This will limit the ability of air crews to work on the fire.
• BC Wildfire reported today that the risk to Seymour Arm for the next 24-hour period from the fire at Momich Lake was deemed to be low.
• An Evacuation Alert remains in effect for Seymour Arm.
Crazy Creek Gorge FSR Fire
• Work continues on guards on the 2420 Forest Service Road to secure the area.
• Structural protection is now complete in the communities of Pete Martin Bay, Queest and for structures located south of Queest. Units are set up on buildings and are fully operational.
• An evacuation order is in effect and residents cannot return at this time.
Please note: this update is specifically directed at the areas of the fire affecting the Columbia Shuswap Regional District (CSRD). For the best information specific to your area, please check the websites and social media feeds for that local government.