Update: Two Mile Post-Wildfire Landslide Risk
Posted On: Feb 11, 2022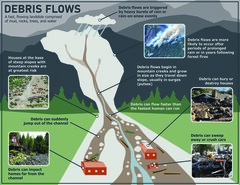 A report regarding the risk of a Debris Flow in the Wiseman Creek watershed in Sicamous is now available on the District of Sicamous and the Shuswap Emergency Program webpages.
The Wiseman Creek Mitigation Options Analysis was prepared by BGC Engineering after a hazard assessment determined the area is subject to a high risk of a debris flow due to the conditions created by the past summer's Two Mile wildfire.
This is of particular concern for the residents of the Sicamous Creek Mobile Home Park, which is located on the Wiseman Creek fan and would likely be in the path of any debris flow. Risks of the debris flow increase with snowmelt and spring rain.
Staff from the District of Sicamous and the Shuswap Emergency Program met with residents of the mobile home park on Thursday, February 10, 2022, to review the report and provide emergency preparedness information.
The Shuswap Emergency Program, which is contracted to provide emergency service to the District of Sicamous, is in communications with Emergency Management BC regarding the feasibility of the options outlined in the report and the next course of action.
View Sicamous' Emergency Preparedness webpage.