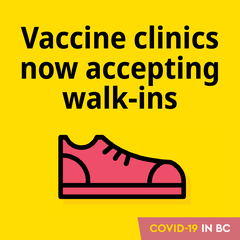 Update September 23, 2021: 
Walk-ins are being accepted at the Sicamous Senior's Centre today (September 23, 2021) between 9:00 a.m. and 4:00 p.m. as well as October 7th, 14th and 28th. 
Original Post August 18, 2021: 
If you haven't received your vaccine or it has been more than 28 days since your first dose, the province encourages you to visit a drop-in clinic today to protected yourself from COVID-19.
The Sicamous Community Clinic is accepting walk-ins on Thursdays between 9:00 a.m. and 3:00 p.m. until September 16, 2021. The Clinic is located at the Senior's Centre (1091 Shuswap Ave). While walk-ins are accepted, the Clinic recommends vaccine registration and booking an appointment to guarantee you receive a vaccine. 
The next closest Clinic is located in Salmon Arm at the Salmon Arm Recreation Centre. Hours for Clinics within the Interior Health region can be found here.