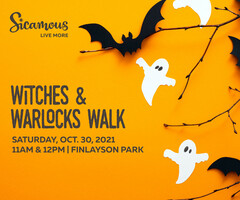 Dress up in your favorite Halloween costumes for the First Annual Witches & Warlocks Walk!
Families are invited to test their Physical Literacy Skills on an outdoor obstacle course at Finlayson Park (1121 Eagle Pass Way). See how well you are at spotting objects for our scavenger hunt for a chance to win prizes. Take in the StoryWalk "Go Away Green Monster!"
This is a free event and all ages are welcome! Pre-Registration is required.