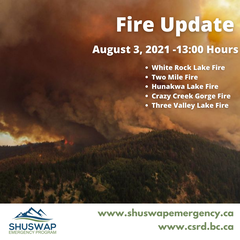 Fire Situation Update August 3, 2021 posted by the CSRD and Shuswap Emergency Program - 13:00 Hours.
Two Mile Fire
• The Evacuation Order for approximately 32 properties in the District of Sicamous has been lifted. Much of Sicamous remains on Evacuation Alert. Residents are reminded to remain watchful and prepared, as the situation could change rapidly depending on weather and other factors.
• Firefighting is challenging due to steep terrain and dense vegetation. As such, the BC Wildfire Service (BCWS) is not reducing any resources currently working the fire.
• From a BC Wildfire rep: "We do not want to lose anything we've already gained."
Crazy Creek Gorge FSR Fire
• Rain and higher humidity have helped settle fire behaviour. This is providing a window for BCWS to try and get on site to plan for structure protection, guards and other firefighting efforts.
• This fire is burning in extremely difficult terrain and there is heavy smoke. This is making it very challenging to assure the safety of any fire personnel. It is also limiting the ability of BCWS to get equipment and ground crews in place.
White Rock Lake Fire
• Better visibility over the next 48-hours will allow aerial resources to support ground crews.
• Crews are patrolling the completed machine guard and are working on extinguishing any spots that may have crossed the guard.
• The Shuswap Emergency Program will have more information on this fire later today.
Hunakwa Lake Fire
• There have been no changes to the Evacuation Order or Alert status.
• There have been no major changes to the Hunawka Lake fire in the Seymour Arm area and crews are making good progress due to a break in the weather.
Three Valley Lake
• A fire behaviour analyst is being sent out today with the goal of preventing the fire from creeping towards the CP Rail line and the Trans-Canada Highway.