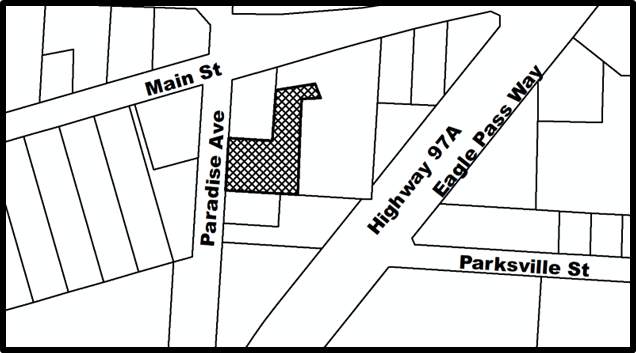 A hearing will be held on Wednesday, November 30, 2022, at 5 p.m. in Council Chambers (District of Sicamous Municipal Office, 446 Main Street, Sicamous, BC, V0E 2V0) to consider the issuance of Temporary Use Permit No. 22-202-TUP.
The owner of property located at Lot B District Lot 497 Kamloops Division Yale District Plan 18663 (517 Main Street) has applied for a Temporary Use Permit to allow Campground with Recreational Vehicles for a period of three years within the subject area. Temporary Use Permit No. 22-202-TUP may be viewed at the District Office or online at: https://www.sicamous.ca/live-here/building-planning-development/developments or by contacting the Planner, Sarah Martin.
If you believe that your interest in property is affected, you will be afforded an opportunity to be heard at the hearing or to submit written comments respecting the temporary use permit.
The public is encouraged to submit their comments in writing prior to the meeting.  Where all comments are received by 4:30 p.m. on Tuesday, November 29, 2022, they will be provided to Council.
You may submit your comments:
via email to publicinput@sicamous.ca ;
via regular mail to Box 219, Sicamous BC, V0E 2V0; or,
hand delivered to 446 Main Street, Sicamous, B.C.
For those wishing to attend the Council Meeting electronically, please join us via Zoom at: https://us02web.zoom.us/j/84243364235