International Purple Day!
Posted On: Mar 26, 2023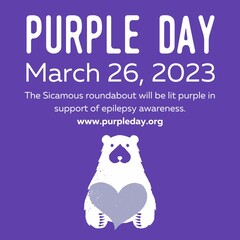 Today is International Purple Day in support of epilepsy awareness. International Purple Day was founded in 2008 to show those who are living with epilepsy that they are not alone and that they are valued. While epilepsy is one of the most common neurological conditions, it has very little recognition in society.
At the February 22 Regular Council Meeting, the District of Sicamous Council passed a motion to proclaim March 26, 2023 as International Purple Day in Sicamous. The Sicamous roundabout will be lit purple in recognition of this day.
Worldwide, International Purple Day is celebrated by wearing purple and participating in events focused on raising awareness about epilepsy in a variety of communities.