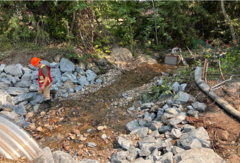 The Kerr Road culvert replacement project is nearly complete!
The crew is scheduling paving. This is expected to take a couple of weeks. The environmental consultant will be monitoring the site to ensure that the riparian vegetation comes back. Public works will be watering the banks weekly to assist the recovery of the vegetation.
On August 3, the creek was slowly reintroduced to the channel. This involved letting some water through at the top, letting it "wash" the channel, and then letting it sit in a pool on the downstream side until the sediment settled. This took around 6.5 hours and was ongoing until no further sediment was being stirred up.
The sheet pile coffer dam and pump were then removed and the creek was officially reintroduced to its new channel.
The residents who live closest to the site have been taking good care of the crew. Despite having the most disruption and disturbance (imagine big equipment right outside your front door!), they let the environmental consultant use their lawn to measure fish and provided ice cold water for the crew each day. Gestures like this go a long way, especially on a project that involves a tight timeline (the "fish window") and hot weather! Thank you for showing such kindness.
Kerr Road Culvert Replacement Project Update