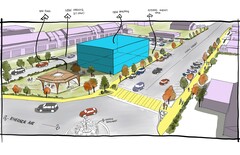 200 Main Street future home of Shuswap (Secwépemc) Healing Centre; Council considers attainable housing development with Habitat for Humanity
District of Sicamous Council has confirmed 200 Main Street as the future home of the Shuswap (Secwépemc) Healing Centre after being approached by Habitat for Humanity Kamloops (Habitat) to develop a residential/commercial complex that will provide attainable housing in Sicamous.  
"We have heard residents' concerns and understand there is a need for more housing options in Sicamous," said Mayor Terry Rysz, adding that the District is completing a Housing Needs Assessment to understand the limitations of the current housing stock. "Habitat for Humanity has come to the table to work with us and offer a solution."
With the District's strategic acquisition of properties in the downtown core, Council has had the unique advantage to thoughtfully consider the placement of major projects within the community.
Council has agreed to reserve the northern portion of 417 and 425 Main Street for the proposed Habitat development as a complement to the affordable housing development being built by Eagle Valley Senior Citizens Housing Society and BC Housing on the southern portion of the properties.
"From Habitat's perspective, our overarching principle, and the reason for existing is to provide housing," says Bill Miller, Executive Director for the Habitat Kamloops Society. "We are here to function as your non-profit developer. We can bring attainable housing to your community."
The project currently being proposed by Habitat would be mixed use with commercial/retail space on the ground floor and residential above; however, the project will involve a thorough public consultation process that takes community objectives and the Housing Needs Assessment into consideration.
Council has confirmed 200 Main Street as the location of the Shuswap (Secwépemc) Healing Centre, bringing the project closer to the water, incorporating existing trees, and providing an outdoor plaza which will act as a community gathering space on Main Street.
Next week, Sicamous welcomes world-renowned Indigenous architect Douglas Cardinal and the Scott Builders design team recently awarded the design and preconstruction for the $5.9M project being funded by the Rural and Northern Communities Fund. During his stay, Cardinal will begin his architectural process by assessing 200 Main Street, touring areas of cultural significance to the Secwépemc, and guiding visioning sessions with the District and Splatsin.
-30-
Background Information:
(Photo: This rendering demonstrates the positioning of the building on 200 Main Street and the intention to incorporate existing trees and an outdoor plaza as community space. Please note this rendering does not represent the design of the building. Council awarded the contract for design and preconstruction to Scott Builders Inc. at the September 8, 2021 Regular Council Meeting.) 
View the News Release as a PDF.