Shuswap Healing Centre & Housing Projects Update
Posted On: Jun 13, 2023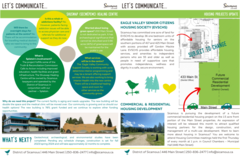 Keep an eye on your mailbox! The District of Sicamous is distributing a two-page handout with an update on the Shuswap Healing Centre and housing projects in Sicamous.
FAQs
Why do we need this project?
What's next?
Eagle Valley Senior Citizens Housing Society
Commercial and residential housing development
Didn't get one in the mail? Check out the two-page handout at the link below!