Community kindness and support for evacuees
Posted On: Aug 24, 2023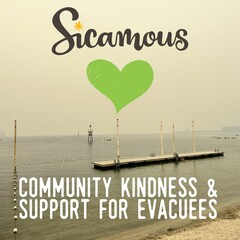 Community Kindness
These challenging days for the Shuswap have been met with amazing community kindness and support. The District of Sicamous would like to thank all those who have volunteered, donated or provided support to evacuees and firefighters.
Local Support for Evacuees
How you can help!
A donation collection centre is established at the Red Barn Arts Centre. It will be open daily from 10 a.m. until 2 p.m. Check the Sicamous Cares Facebook page for updated information on the resources needed.
Volunteer to help sort donations at the Red Barn.
Can you offer evacuees a place to stay? Sign up to offer accommodation to evacuees.
Evacuee Resource List - what do evacuees need right now?
The Shuswap Community Foundation has set up an Emergency Response Fund to assist community-based organizations during the Bush Creek East wildfire. Any donations (up to $25,000) will be matched by SASCU.

Make  your donation to the SCF "Emergency Response Fund" at any SASCU branch
E-transfer info@shuswapfoundation.ca with a memo "SCF Emergency Response Fund"

Donate directly to Emergency Support Services.
Shuswap Emergency Program
The Shuswap Emergency Program is responsible for ensuring that residents of the District of Sicamous are prepared, safe and informed during these times. The Emergency Operations Centre is activated and Emergency Support Services is providing support to evacuees.
The Shuswap Emergency Program also provides preparation, safety and information for the City of the Salmon Arm and CSRD Electoral Areas C, D, E, F and G.
Questions about the Bush Creek E Wildfire response? Contact the Emergency Operations Centre at 250-833-3350.
Stay in the know: